Hristina Marinova works for the "Pensioners' Union – Ruse Region", in Ruse – Dolapite quarter, Bulgaria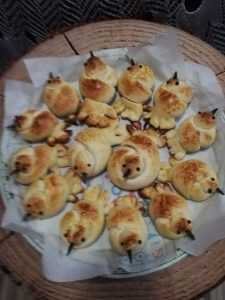 Who was the baking group?
6 women from the Pensioners' Club "Harmonia", Ruse, Bulgaria, took part in the baking group
Where did the baking action take place?
7000 Ruse – 27 "Han Asparuh" Street
How many sparrows were baked?
30 sparrows
Can you tell us about the baking action?
Flour sifting, recipe kneading from the city of Ulm Germany by Hristina Marinova, sparrow shaping, eye placement, nose and tail shaping, tidying up, pressing in, baking.
We made sparrows for our friends and people from the Rousse Union! We then passed on the sparrows to all those present with a wish for health, success and hope that good may be for all peoples along the Danube River!
Finally, we clasped hands to be together for a better life, better relations between the peoples of the EU and to convey the symbol of the city of ULM Germany the "sparrow of friendship" for more kindness and much success among the peoples in the EU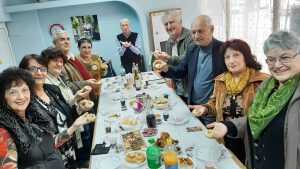 For whom did you bake?
9 people – 5 women and 4 men from the Union of pensioners – Ruse Region, Bulgaria.
We baked for friends of our retirement group, for our neighbors
Why did you select this recipient group? What are the reasons?
We chose to donate sparrows to this group of people because we wanted to convey the messages from our friends from the city of Ulm Germany about voluntarily and symbolically handing over a sparrow / bread / for very good relations between people from the countries along the Danube river!