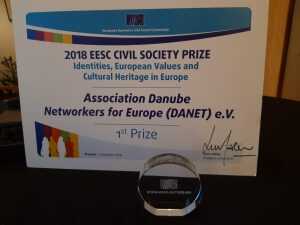 We are delighted to have just won first place in the application for the EESC Civil Society Prize of the European Economic and Social Committee in Brussels!
The Danube-Neworkers with their project "Bread Connects" were rated best of the 5 nominated civil society projects out of 150 applications from 27 EU-countries.
We would like to thank the EESC and all our colleagues here and in the Danube countries for their great support!
You can view the award ceremony under the following link:
Facebook: https://bit.ly/2zVJry2
Further information will follow shortly.
More: http://bread-connects.tastes-of-danube.eu/eesc/