The Danube Networkers Carmen Stadelhofer, Bertram Wegemer and Jogy Jauss from Ulm visited the company Karl-Heinz Häussler GmbH on 11th July 2017. Talking to CEO Rosemarie Häussler-Mayer and the Marketing Director Mr. Fischer, they got informed about the company, its history and philosophy.
Relevance for the project: Throughout our research with regard to existing baking houses and wood burning ovens in Baden-Württemberg we repeatedly came across the name Häussler. We therefore became curious about getting to know the firm which was so closely connected to the subject of our project by producing baking ovens.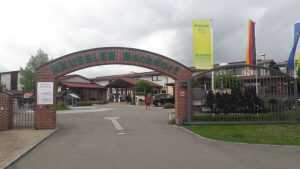 Located in Upper Swabian Heiligkreuztal in Southern Germany, Karl-Heinz Häussler GmbH is a family-run company with approx. 100 employees today. "Baking village" is what they affectionately call the numerous show and sales rooms where stone ovens, dough mixers, pasta machines etc. can be visited. The company also offers various baking and pasta shows and baking classes year-round. Furthermore, there is a vivid exchange with the firm's clients through a web portal.
We asked Mrs. Häussler-Mayer about the history of the business: the company was founded in 1949 and emerged from a small firm. Mrs. Häussler-Meyer's grandfather was a smith and took care of agricultural devices and her father continued the business. Her mother marrying into the company asked him to build her a well-working wood burning oven she was acquainted with from her parental home. The wood burning oven he had built for her was first only used for themselves. The mother baked breads for the family and handed them to friends, too. This led to a growing demand for wood oven bread.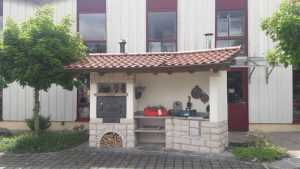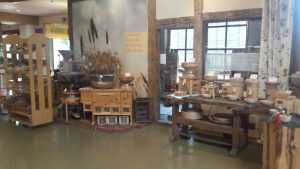 After having studied baking houses both at home and abroad, the Häussler family besides trading agricultural machines developed a production line for the Häussler Bread Oven. In the beginning, they could particularly win countrywomen over to their products. There was hardly any other target group with a bigger interest. This changed significantly in the 90's and the Häussler family and succeeding generations then extended their business. In 1990, they stopped trading and repairing agricultural machines and specialized on producing bread ovens. Subsequently, they continuously developed the trade of equipment along with ready-mixes and technical know-how for bread baking.
The business today: There is a close connection of production, sales and the creation of a Häussler Bread Baking Community linked by many baking classes in the Baking Village in Heiligkreuztal and the use of social media.
During our visit, we were able to get to know these different components:
The company presents itself in Heiligkreuztal on a spacious area with big exhibition halls and gardens, an extensive product range connected with baking (and kitchen in the broader sense) and accessories regarding baking and cooking.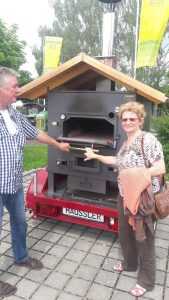 The core business is the technological production of high-quality ovens making them the market leader in this field in Germany. The products are not low-priced but they are well-known around the globe and recognized by solid processing and extremely long durability. There are many different models which can also be viewed at the Baking Village: both prefabricated baking houses as well as baking house components for self-construction which have diverse styles for different building sites and clients with different tastes.
But the Häussler families senior and junior and their employees don't just focus on selling their products. To them, the intangible component is also important. Baking bread is a base for a healthy diet and a way of community-building which is indicated by specialized courses, trainings, public events, spreading information through videos on YouTube, online platforms etc.
Conclusion: The actual success of the company is the well-working interaction of commercial interests and a company philosophy alluding to a healthy diet and the preservation of a natural value added chain as well as including the customer as a partner.
Conclusion for our project: We were able to have a closer look at diverse wood burning ovens. A friendly member of staff explained to us the differences of production and function. The company also produces electronically heated ovens which can be operated more easily and quickly than wood burning ovens. Many people with only little time for baking bread consider this an advantage. It is a matter of own preference which technique one wants to use. Nowadays, wood burning ovens are even more popular than ever. People understand it as a benefit when devices run without electricity, switch and touch screen. We learnt that the baking process is the same for both and the only difference is the flavor of the wood burning oven which makes up the taste of the bread. Yet, it is the taste of the bread being baked in a wood oven which many people appreciate to an increasing degree.
Of particular fascination for us was a small mobile wood burning oven standing on a small trailer allowing it to be taken anywhere. With such a mobile device, our idea of connecting people and traditions in the Danube countries through the medium "bread" could be put into practice (combined with the production of good wood oven bread on-site, according to local tradition). The systematic use of such a wood burning oven could give urban children, residents of urban districts, elderly people and migrants an opportunity to gather around the wood oven to bake together and tell their stories.