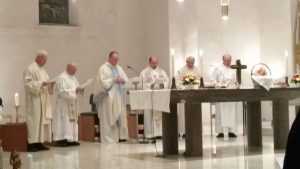 On 7th October, the General Catholic Community of Ulm, together with the Eritrean, Italian, Croatian, Polish, Portuguese, Slovenian and Hungarian native communities invited to a common service. After the service, there was a chance for encounters and exchange. The Danube-Networkers took part in the service and presented an intercesssion:
Intercession of the Danube-Networkers
Good Father, you have united with us and set the rainbow as a mark of unity.
In its colours, the diversity of languages and traditions are reflected.
Take away our fear of differences,
And give love to our hearts to make us learn to accept each other.
Open our ears to make us learn to understand each other
and strengthen our minds to help us develop ways for a fair cooperation –
in the Danube area, in Europe and in the whole world.
Lord, answer our prayer: Give us today our daily bread.
We ask for sufficient aliment for everyone, for a peaceful society, the willingness to share and
to take over responsibility for others.
Afterwards, they shared small buns, each with a white flag, in the community hall. The attendants were asked to write a wish for the future of people everywhere in the world on the flag in their native language and in German. Later, the signs were collected and attached to a common bread. Unity in diversity. The offertory went to the geriatric hospital in Chinisau.
Intercession Danube-Networkers